As 2017 draws to its end, we are organising three events for this autumn: Abu Santa's Grotto; a stall in West Ealing; and a pianolla concert. Details of all these events can be found on our events page
News from Sabastiya:
Four of us visited Sabastiya this autumn. The light was fantastic, here is a view of the Al Kayed Guest House at dusk.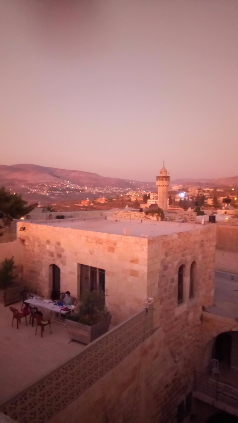 It was relatively calm while we were there. The village was closed on one occasion, when the Israelis decided to celebrate their religious feast of Sukkot at the Sabastiya ruins. This happens quite often at the time of Jewish religious festivals. The next day it was noticed that some damage had been done to one area of the historical sites. It was not clear who was responsible, but when the Sabastiya municipality called in expert help to repair the damage, the Israeli army arrived and called a halt to it. Sabastiya municipality has formally complained to UNESCO.
/service.svc/s/GetFileAttachment?id=AQMkADAwATExAGE3NwAtNGM4NS05YTM2LTAwAi0wMAoARgAAA%2BUcSmhYgYpNgA6dDAHsQWMHAJe90ZOPlCxGilY6I%2BlK91IAAAIBDAAAAJe90ZOPlCxGilY6I%2BlK91IAAQ3pacIAAAABEgAQAHW5dhRvVQ5HhsnDyf3uQtM%3D&X-OWA-CANARY=TNBkYWUi4U24Zd5xBN0GbzB8KHg7ONUYXyYgzE7CKU6IYlOn1jy0EmHIqH2-p0-uHoM0u8wSCzU.&token=eyJ0eXAiOiJKV1QiLCJhbGciOiJSUzI1NiIsIng1dCI6ImVuaDlCSnJWUFU1aWpWMXFqWmpWLWZMMmJjbyJ9.eyJ2ZXIiOiJFeGNoYW5nZS5DYWxsYmFjay5WMSIsImFwcGN0eHNlbmRlciI6Ik93YURvd25sb2FkQDg0ZGY5ZTdmLWU5ZjYtNDBhZi1iNDM1LWFhYWFhYWFhYWFhYSIsImFwcGN0eCI6IntcIm1zZXhjaHByb3RcIjpcIm93YVwiLFwicHJpbWFyeXNpZFwiOlwiUy0xLTI4MjctNzIzMTEtMTI4MzgyNDE4MlwiLFwicHVpZFwiOlwiMzEwNTc0NjYzOTY1MjM4XCIsXCJvaWRcIjpcIjAwMDExYTc3LTRjODUtOWEzNi0wMDAwLTAwMDAwMDAwMDAwMFwiLFwic2NvcGVcIjpcIk93YURvd25sb2FkXCJ9IiwiaXNzIjoiMDAwMDAwMDItMDAwMC0wZmYxLWNlMDAtMDAwMDAwMDAwMDAwQDg0ZGY5ZTdmLWU5ZjYtNDBhZi1iNDM1LWFhYWFhYWFhYWFhYSIsImF1ZCI6IjAwMDAwMDAyLTAwMDAtMGZmMS1jZTAwLTAwMDAwMDAwMDAwMC9hdHRhY2htZW50Lm91dGxvb2sub2ZmaWNlLm5ldEA4NGRmOWU3Zi1lOWY2LTQwYWYtYjQzNS1hYWFhYWFhYWFhYWEiLCJleHAiOjE1MTIwNzg4MzcsIm5iZiI6MTUxMjA3ODIzN30.jztTJUt3VzsqyXVf-qNe6AVEYSvkEuZRa9EljgyWI4MEcpm7CYuykMzHkkRnppZNobhCsgdYolkHkzdoNzI-iA0R4bafR-XqCzgJ07l6P9b-GMdaO-IdfEmNaIVsX4yAlIDFa4AIfcbmDWEAF1R9Ge3DUjx2Dfwfqe898pIenbPZP9NSwV–sGrqteLy0Hg3ig3HixNyT5qYn2zZn0ZSQwrrx9DUfoLoHNK6y-HfS46_Kie7vLvdhMOJMUPcXvzcbq8PRGNgWcRdjrUr5RiJt_sCKNfjMPVS2tItP6ZP-q54EoByQi7FSkMQadOU7JfwP2a8Oj2PP-y63DCQXsB3TQ&owa=outlook.live.com&isc=1&isImagePreview=True" />
We have made contact with the Department of Engineering at An Najah University of Nablus. They have agreed to assign a small team of students whose final year project will be to devise a practical and economical device to recycle grey water. This would be for home use to water trees and gardens. We would initially fund the prototype and, if all goes well, help produce more models.
The Women's Co-operative, based in the Al Kayed Palace, beneath the guest house, have extended their work: besides producing snacks for the schools, they are now offering take-away dishes and cookery workshops
The olive harvest has just finished. Now is the time to plants more trees and we have sent £500 to buy olive and almond trees to be distributed to families. The trees we provided last year, mostly fruit trees, have done very well. We have also funded the purchase of 10 more gas masks to be given to homes close to the area where tear gas is usually fired.
The Al Kayed guest house, run by Abu Yasser, our rep. in Sabastiya, is doing well. They have now installed air conditioning in three rooms which makes it more appealing to visit in summer. Bara' delivers eggs for our breakfast from the hens we bought his family and 30 other families three years ago in. Here is a photo of Bara' when they received the hen and now selling us fresh eggs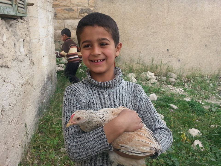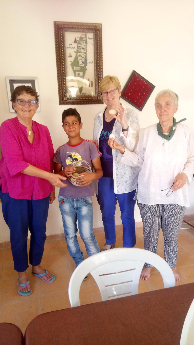 The girls' school has a new head who is determined to improve the school and involve parents more. The school is going to be modernised and extended. We have received a generous donation by one of our HAFSA members to finance the installation of a modern toilet block. Another member had generously donated money to clean up the village cemetery and plant trees and bushes
We visited the nursery the tables we provided for them last year are in use in every classroom adding a splash of colour.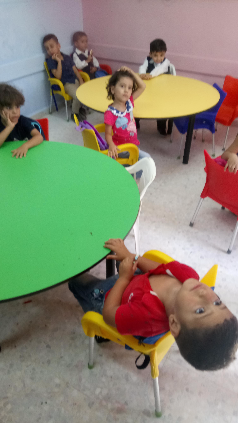 Our Annual General Meeting (AGM) will take place on Saturday January 20th from2.30-5pm
At St Thomas Church Hall, 182 Boston Road, W7 2AD.
Our guest speaker will be Dr Marwan Darweish – Principal Lecturer in Peace Studies at Coventry University. More detailed programme at a later date.
We will be looking for new committee members. Please consider standing, it is not that onerous – we meet circa 5 times a year. Most importantly, we will need a new Treasurer as Cathie is standing down after seven years.
To keep up-to-date with our activities you can join our Facebook page here
Information on how to donate to support our work can be found here