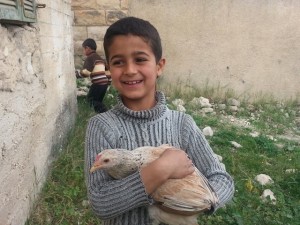 UPDATE The Hen & Cockerel project was a huge success. HAFSA and the people of Sabastiya would like to thank everybody for their donations. The 400 hens that were bought for needy families are busy producing eggs and have also produced new chicks so the families can continue to count on a steady supply of fresh eggs and poultry. Read more in the Autumn 2014 Bulletin.
---
The first batch of hens has arrived!
About the project
Currently we are fund raising to buy 500 hens and 100 cockerels that will be distributed to poor families in Sabastiya.We have already purchased 50 hens and 10 cockerels and the response in the village has been tremendous. We are looking forward to sampling the fresh free range eggs during our next visit in May!
How can you help?
Sunday 13 April: Hen (and Cockerel) Party!Join us for an evening of delicious food, a quiz, singing, Easter egg hunt, raffle, bar and much more!£10 a ticket, please book in advance as we need to know numbers for catering purposes. Book by phoning 0208 5673446 or email [email protected]6.00pm onwards At Monika and Martin: 33 Manton Avenue Hanwell W7 2DYBuy a henWith our vouchers you can now buy someone a hen for Easter or any other occasion! The £10 voucher will go directly to buying a hen and having that hen delivered to a needy family in Sabastiya.Order from Andree 0208 5673446 or email: [email protected]
Hen voucher