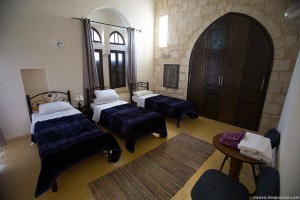 HAFSA was pleased to be one of the international groups that supported the development of the Al Kayed Palace Guesthouse in Sabastiya. This guest house opened for business in November 2013 and subsequently hosted the Zaytoun Harvest Tour.
How we helped
We bought beds, bedding and heaters for the winter, but as importantly we encouraged the village to go ahead, which they did with gusto!We are committed to continuing to supporting them and to helping increase tourism in Sabastiya. HAFSA and the Twinning Network tour will be staying there for three nights in May 2014 and the Zaytoun Harvest Tour will again stay in November 2014.
About the guesthouse
The Al-Kayed Palace Guesthouse is an Ottoman-era palace that was built for the Al-Kayed family in around 1855. Palestinian cultural NGO Riwaqin helped to renovate the palace so it could serve as a community hub for the Union of Women's Committees for Social Work in Palestine and, later, as a guesthouse.
The guesthouse has beds for 17 people, and can accommodate singles, twins or multiple occupancy at a variety of very reasonable prices. All the rooms are en-suite. There is a communal dining/meeting room and wonderful views. Traditional home cooked Palestinian food is offered at breakfast and also evening meal if required.
Members of the women's group also work in the guesthouse, and goods such as soap, embroidery and jam made by local women are sold there.
Check out their website for booking and more information.